The Statue of Liberty Riddle
Years ago I examined the strange symbolic elements of the Statue of Liberty I stumbled upon during a regular writing assignment I compiled into my blog Lady Liberty's DNA. Since then I've kept an eye on her and collected even more juicy tidbits.
Recently another blogger examined this issue and linked to my original story, which reminded me just how much I've learned much about our Lady Liberty since then!
For example, we are told that it is too dangerous to go into the torch of the statue because it was so badly damaged after the explosion on Black Tom Island in 1916.
I have since learned that this is not actually true. That gentleman climbing the staircase to the torch is none other than Bill Gaines, the mad genius behind Mad Magazine.
He supposedly had the world's largest collection of Statue of Liberty memorabilia!
Turns out Bill was such a fanatic about the Lady that his friends wrangled the security officer into letting his gang climb the forbidden Torch staircase!
Unfortunately, he was too hefty to make it all the way to the torch, but his wife took his picture then she and his buddy made it to the top — but claimed it was so scary she didn't take any pictures and came right down.
Obviously his love affair with the Lady of the Harbor was reflected in his magazine!
Interesting how our Lady Liberty has found her way onto every major magazine cover — many times repeatedly.
She certainly seems to reflect the many moods of America:
To add to the riddle, I discovered that the Statue of Liberty is on an artificial island topped with an 11-point Star Fort which was originally flanked by the sun, moon and stars…
Well, since I've found dozens of Star Forts in the US all by myself on Google Earth.
Guess I shouldn't be surprised that there is another one right across the New York Harbor!
Gustave Eiffel, the Paris tower guy and high ranking Mason, designed the frame of our Lady Liberty.
This gets suspicious when you learn about the original Eiffel Tower and the plan to deconstruct it after the 1900's Expositions, but suddenly they realized it would be more practical to leave it up as a radio antenna.
Interesting how those supposedly decorative structures Eiffel erected before the age of radio turnout to make great antennas, eh?
Hmmmm…
On my last blog post about Lady Liberty's DNA, I was rewarded with this intriguing comment:
It may be that Lady Liberty is not just a statue or memorial to peace and liberty.




She may be a radio conductor. If one looks at the times it was closed to the public, supposedly for repairs or modifications, they appear to be times connected to major wars when secret communications were important. The metal staircase could be a two-way transmitter/receiver. The island situation would guarantee it to be free from other radio interference and also private use.
Is it possible the Statue of Liberty was designed to be a giant transmitter/collector of Atmospheric Etheric Energy that I've begun to suspect powered many Old Empire (Tartarian) structures?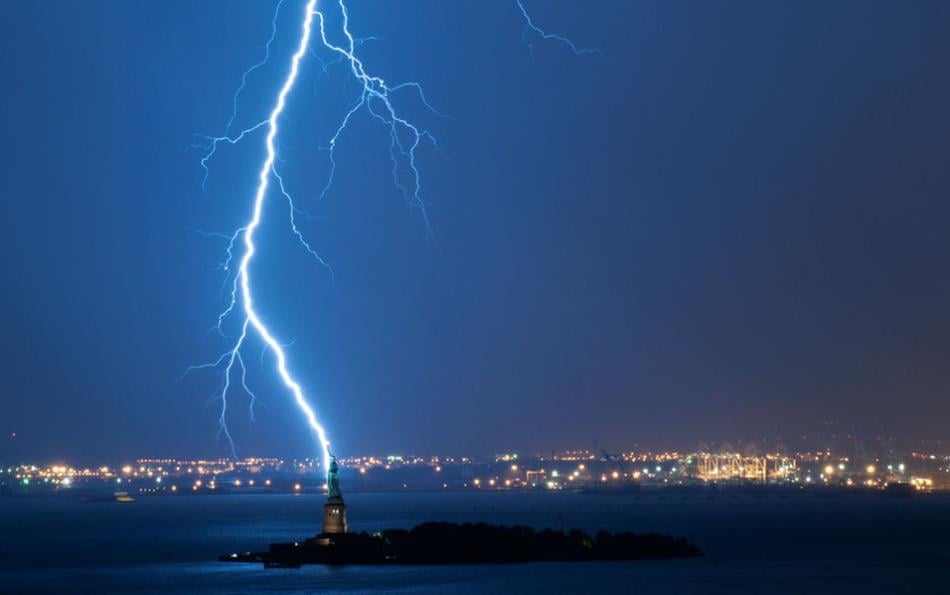 Maybe the "latent" power transmitting function was responsible for the campaign to make the public pay for a granite base?
When she was initially constructed in France, she was happy just resting on a platform:
Before she arrived in the US, however, it became a matter of national pride to have her stand on an elaborate granite base. Because, you know, it's classy.
The guy who designed this expensive pedestal was Richard Morris Hunt.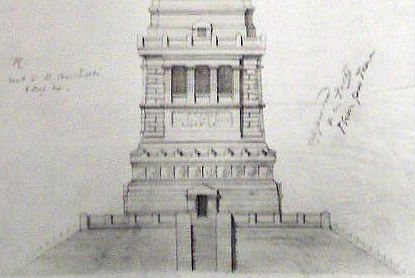 Yes, he's another one of those suspicious architects credited with some of those disposable New York Gilded Age mansions that had to be destroyed for the sake of progress.
Sigh.
As part of the fundraising campaign to erect the base to put the statue on, the torch was displayed in Madison Square Park from 1876-1882.
Wait a minute… is that a fake photo on the monument showing the Statue of Liberty already erected in New York Harbor?
Or is it an actual photo because she's been there all along, as researcher UAP postulated on his Statue of Hoaxery video?
Considering the types of Controllers involved, I wouldn't put anything past them.
For instance, newspaperman Joseph Pulitzer pounded the public for donations for the base in the editorial pages of his newspaper "The World."
I've read some of those articles and they really try to shame the working class into donating to this cause, claiming that they shouldn't expect the wealthy to finance this noble enterprise celebrating the melting pot of America. He bragged that he got school children to contribute greatly to this fund.
I kid you not.
Here is what they put into the Time Capsule in the cornerstone:
A copy of the United States Constitution;




George Washington's Farewell Address;




20 bronze medals of Presidents up through Chester A. Arthur (including Washington, Monroe, Jackson, Polk, Buchanan, Johnson, and Garfield who were proven Freemasons);




copies of New York City newspapers;




a portrait of Bartholdi;




a copy of Poem on Liberty by E.R. Johnes;




and a list on parchment of the Grand Lodge officers.
Sounds like they were celebrating their little Controller network…not so much about the common folk the statue supposedly represents.
Yet another intriguing aspect Lady Liberty's construction is the use of a specific copper to encase the framework. Although there is no paperwork to verify the mine it came from, modern testing speculates it was all extracted from a Norwegian island in the North Sea owned by France which produced 1.8 million tons of copper from 1865 to 1895.
While researching the copper in the Statue of Liberty I ran across an interesting observation in this article:
The Statue of Liberty is not electrified, in the sense that the electrical system is only used to illuminate the inside of the statue to visitors. But there is still an electrical phenomenon known craftsmen working metals, phenomenon that takes a completely different magnitude in the case of a colossal statue. This is the electric action whose effects are to be feared. The sea wind, which always leads mechanically and independently spray, high proportions of salt water to the vesicular state, is one of the most active agent for the spontaneous creation of electricity from an iron-copper element such than that resulting from the construction of the statue. Recall that the internal frame is made of iron, the outer covering of copper, so there has contact points that will generate that electricity.
That aspect gets really interesting when you learn how when the Statue of Liberty experienced a blackout in 2017, the pedestal and the crown remained illuminated!
I also learned that in the 1950's the Boy Scouts of America were tasked with erecting miniature Statues of Liberty across the country furnished by a single manufacturer that sold for $300 apiece.
The BSA raised enough money through it's Strengthen the Arm of Liberty campaigns to erect more than 200 little Lady Liberties in 39 states.

As a matter of fact, I was amazed how many replicas of the Statues of Liberty there are scattered around the world!
Same kind of baffling repetition I found when researching all the "replica" Alamos and why there are so many cities named Paris.
Just to add a little more surrealism to the tale… I discovered by accident what gift America sent France in thanks for gifting us the Statue of Liberty.
It is called La Liberté Déplorée, a truly gruesome statue portraying a nude woman screaming to the Heavens in anguish surrounded by dead bodies. It is supposed to celebrate the Battle of the Marne.
Surely the French were scratching their heads wondering why we sent them this monstrosity named "The Deplorable Liberty."
And why is there this bronze replica in front of a hotel in Jersey City?
Oh, one last update to Lady Liberty's story…
A new controversy over the original design being a black lady!
Of course, the mainstream historians are sure this isn't true, but when you consider that the Freemasons had their hand in this affair from beginning to end, you realize any level of high trickery might ensue!
Well, after compiling this investigation into Lady Liberty I find she is a bigger puzzle than ever!
More investigations on suspicious monuments: