Space Elevators – The Private Portals
Got a very interesting train of thought going after viewing an intriguing movie on YouTube called Moon Rising. The whole documentary was thought-provoking and well-produced, but there was one segment that really caught my attention.
The filmmaker, Jose Escamilla, has taken NASA pictures of space and found evidence of consistent masking of the space around the earth — which is why we never see stars in the background of ANY of those "earth from space" shots.
When Jose finally did dig up some raw shots of 'outer space' he was quite startled to discover a multitude of thin bright lines extending from various celestial objects down to the surface of the earth. He connected the dots — so to speak — to the concept of space elevators, which are supposedly still 'on the drawing board.'
If such a concept sounds ridiculous…well, that's certainly what you've been conditioned to think…which is all the more reason to give it some careful consideration.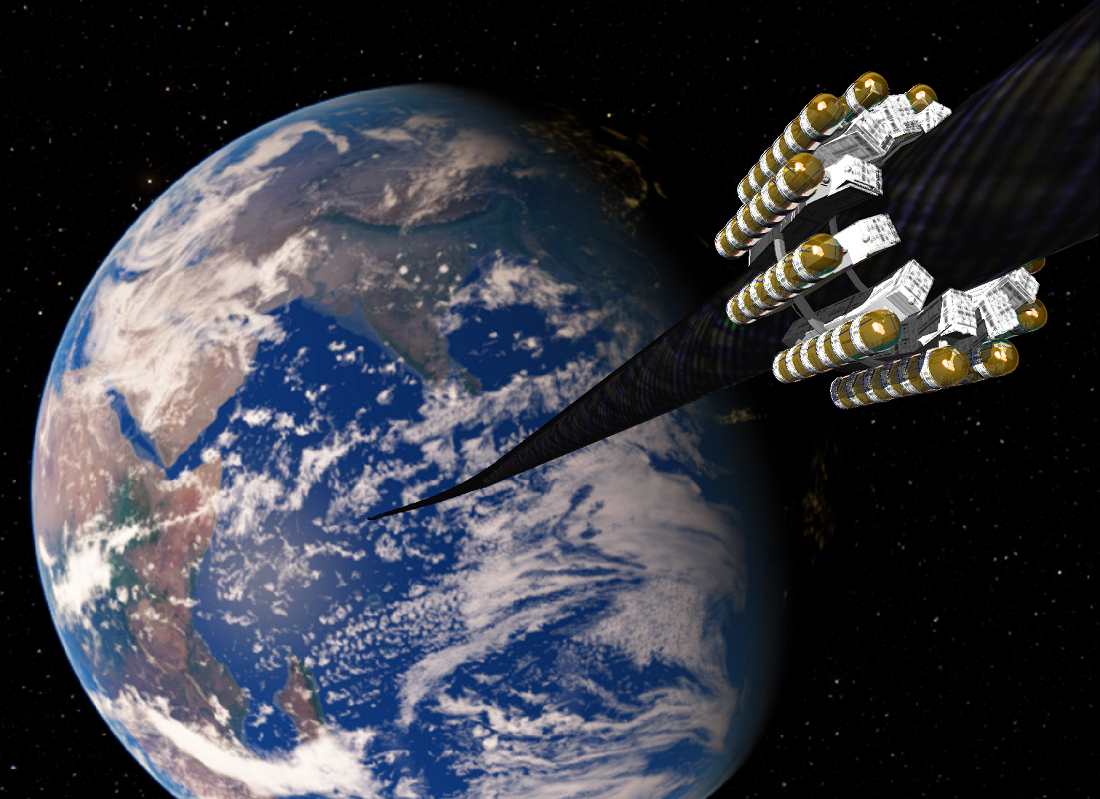 This 'educational' video certainly makes it clear not only that this technology exists as we speak but that it has been well thought through and modeled quite effectively.
Considering the cast of characters involved in this story — from NASA to JPL to Arthur C. Clarke — combined with the sappy presentation (notice how many times they use the word 'crazy') it really makes me wonder if hidden transportation nodes exist all over the planet.
Basically, I'm not so easily convinced private enterprise has been dragging its feet to get into the space race, I think we're just being left out of the loop…
Not to mention underlying message of this promo video — what a 'nod and a wink' to the viability of this concept:
And it really gets curious when you find little unexplained snippets like this laying around with no commentary, just an ambiguous little model:
After all that research I gave myself a moment to consider just how you would hide evidence of a space elevator platform on earth? I mean it's bound to be a bit obvious, you'd have to put it someplace very remote — or well disguised.
I noticed that many of the 'prototype' space elevators were being erected on platforms on the open ocean, often around the North Pole.
So, being the Google Earth fan that I am, I pulled it up and wandered around the remote oceans a while, especially near the north pole — that's where I found the

Square Patch

in the open ocean across from Svalbard and above Greenland.
The coordinates are:
Longitude:    0°19'36.03″W
Latitude: 85° 3'50.94″N
Now I never would have found this if I wouldn't have had the 'history' bar selected and had it set back a few years because at this location today there is nothing but blank ocean as you will see from my following screen shots.
But the past captures have been tampered with for a decade at least.
Either this area is the 'garbage dump' for all cropped Google earth images or they are desperately trying to cover up something big…
It goes on like this for years with more and more images piling up…and as we get closer to present day the mosaic builds to well over 100, and then suddenly they are all gone.